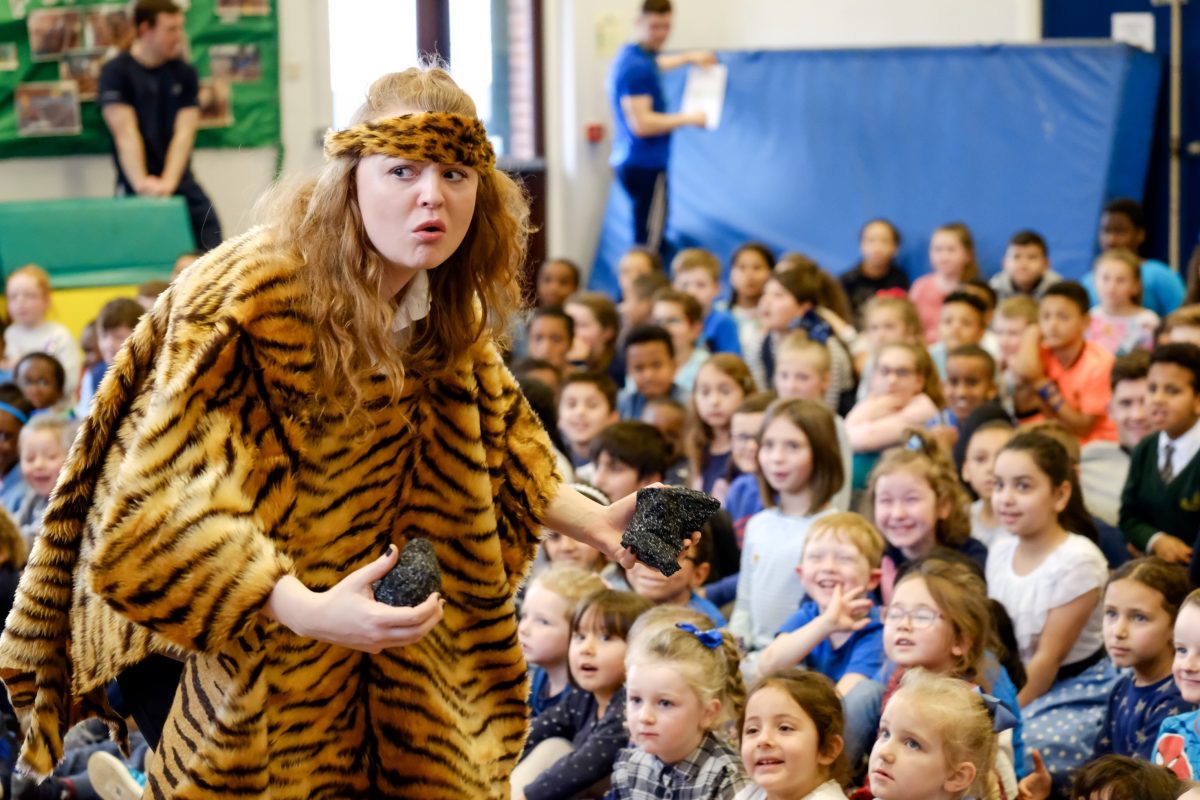 November means one thing for us, and that's Anti-Bullying week! This year we had 3 different tours out on the road, visiting up to 2 schools a day and performing for thousands of children.
Each of the three shows was a little bit different, with a different story and characters but always exploring the Anti-Bullying theme and ensuring that children understand the importance of kindness and know who to talk to if they feel they are being bullied or treated unfairly.
In each school, all children from reception to year 6 watched the performance together and then our actor-educators took them through a Question and Answer session to consolidate understanding.  Following this, some children took part in workshops to further develop their understanding.
This year's 3 performances were:
Time to be Different
Superhero School
Noise Keepers
This year's Anti-Bullying theme, as set by the Anti-Bullying Alliance, was 'All Different, All Equal.'  We loved the theme, and used it to help pupils remember the importance of diversity and of valuing both themselves and each other.
November was a fantastic month, during which we:
Performed our shows 69 times in 67 different primary schools across the UK.
Delivered 102 anti-bullying workshops after our performances
Supported 25,000 children in learning about bullying and developing understanding about what to do, where to get help and how to prevent bullying from happening.
Worked in 22 different boroughs across the UK
We've also received wonderful feedback from schools, including:
"Excellent, amazing, wow! The children really enjoyed – it was amazingly engaging! A clear message of bullying was portrayed."

Adswood Primary School, Rochdale
"Children learned more about the different types of bullying and the workshop gave them the chance to explore the topic as well as encouraging team work and respect for each other. I found it very beneficial for all of the children in my class."

Arnot St Mary's Primary School, Liverpool
"Brilliant, enjoyable performance – kept Reception to Year 6 entertained. Fantastic workshop – the children loved it and it showed the staff another side to them as well. 10/10."

Dukesgate Academy,  Salford
"The children were extremely engaged and every child seemed to gain something from the performance and workshop (even the younger ones!) The Altru staff were fantastic and had a great energy.  10 out of 10."

Hudson Primary School, Sefton
"An excellent demonstration of bullying in today's society.  The messages of not fighting back and not changing yourself were clear, as was the message to tell an adult."

St Michael's Primary School, Halton
"Fantastic! Entertaining. Clear message of the importance friendship & anti-bullying message. Reception – Year 6 enjoyed it and found it interesting and stimulating. The workshop gave children opportunities to embed their knowledge & info acquired in the play. 10/10."

Parochial CoE Primary, Oldham
"Amazing and the children thoroughly enjoyed! Great way to get the message across. They really understood the important messages & it was great for them to actually see effects of bullying and what to do."

St Clare's, Manchester

If you'd like to be involved in next year's Anti-Bullying Week, with a performance or workshop, then give us a call on 0151 443 0333 or email hello@altru.co.uk for more information.