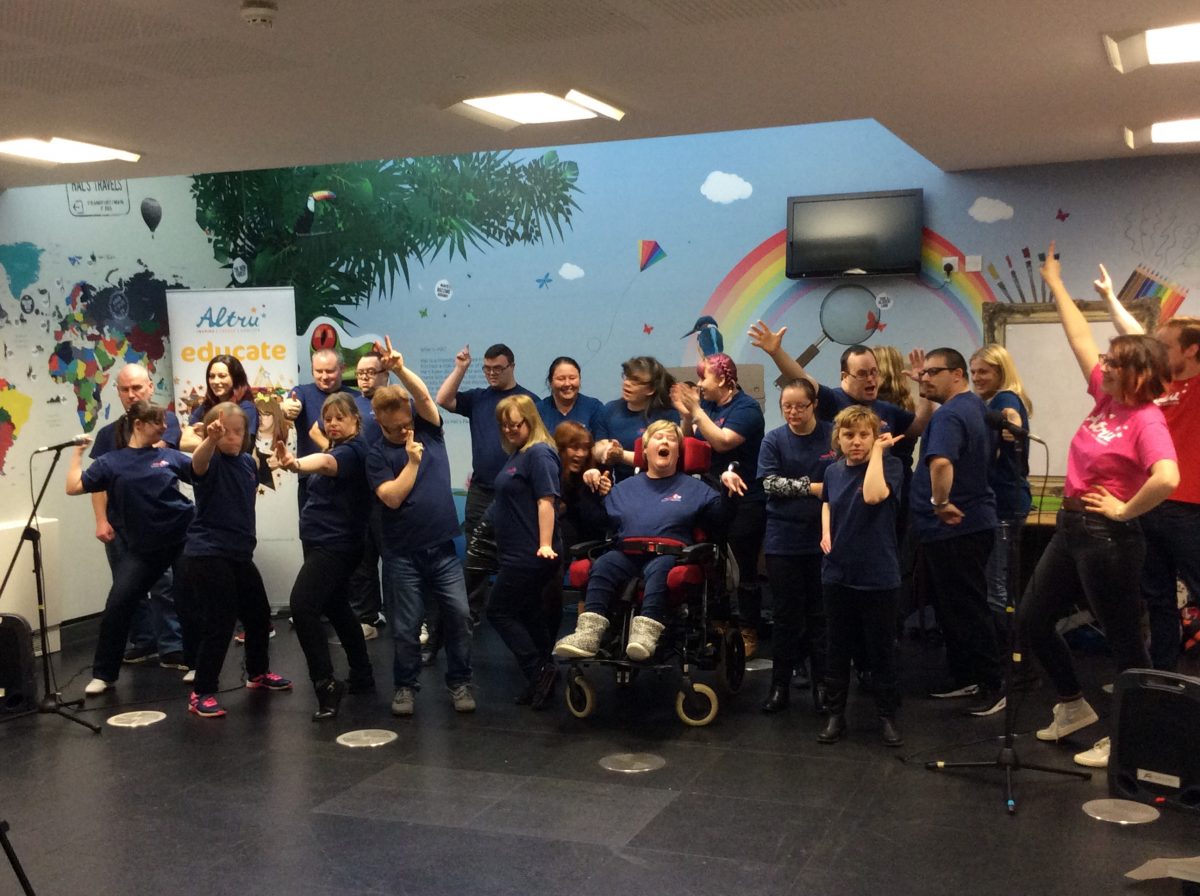 Get it Loud in Libraries
During February & March we worked on a music project with a fantastic organisation called Get it Loud in Libraries.  Get it Loud aim to draw audiences into libraries through live music and prove that libraries are a great resource for communities.
We were really excited to partner with Get it Loud to work with 2 very different groups from across the North West.  Each group worked with 2 practitioners to develop their musical and song-writing skills and create a brand new song, which was then performed in their local library.
We worked in collaboration with Leasowe Primary on the Wirral and More Than Words Advocacy CIC, a community interest company in Wigan who provide creative and cultural opportunities for adults with learning disabilities.
The project brought two live performances (and lots of fun) to Wigan Library and Leasowe Library.
More Than Words CIC
Over the course of 6 weeks, our practitioners Tom and Alice delivered drama and music workshops and devised a new song with this enthusiastic and inspiring group of adults with disabilities.
The song was written by the group and focused on what More Than Words means to them and their lives on a day to day basis.  It's a hugely inspiring song which More Than Words are intending to use as their company anthem at events in the future.
The song was recorded and video footage capturing the whole process was taken and is currently being edited – watch this space for an amazing More Than Words music video!
Maureen from Wigan Library had this to say about the project:
"The project was great, the performance was fantastic! Myself and the rest of the staff really enjoyed it. All the performers, staff and families seemed to be having a great time too.  The event was great for the library and made for a very vibrant and positive atmosphere. Hopefully your groups may be able to perform in the library again. Thanks again."
The project has had a huge impact on the participants from More Than Words – some of whom have developed new levels of communication and a greater sense of their own worth as a result of participating.  One of the participants 'Mike' said: "I am more comfortable with who I am these days"
We absolutely loved working with More Than Words and we're already talking about how we can continue this brilliant partnership for the longer term.
Leasowe Primary School
We worked with Year 5 at Leasowe Primary School to deliver the second part of this project.
The children chose their own theme which was all about happiness and our practitioners Kerry and Ed worked with them to explore what makes us happy.  Using drama activities, the children developed their ideas and their confidence and wrote lyrics for a very catchy song.  The final performance featured movements, drama scenes and a rap battle! Year 5 thoroughly enjoyed the process and had lots of fun rehearsing for the performance during the weekly sessions.  The final performance at the library was packed with parents, teachers, grandparents and younger siblings – who all had a great time and loved joining in with the song and dance moves.
Deputy Head at Leasowe, Clare Higgins was delighted with the impact of the project on her pupils:
"The children have enjoyed every minute of being part of the 'Get it Loud in Libraries' project.  The children have been able to experience and develop new skills, skills which they wouldn't have had access to.  The impact of working with music has not only developed musical skills and understanding, but has had a tremendous impact on their self-esteem and confidence.  The children truly felt they would not be able to compose a song, let alone perform it.  The achievements they have experienced have given them a huge self-belief. They have developed team building skills, a love of music and have been part of an experience that they will never forget."
Children used costumes and props and the children all received certificates for all their hard work which were presented to them during a school assembly.
It was fantastic to work at Leasowe for the first time and we know that we'll be back again soon!
We absolutely loved working with Get it Loud in Libraries to deliver these projects and we look forward to more exciting work in the future.