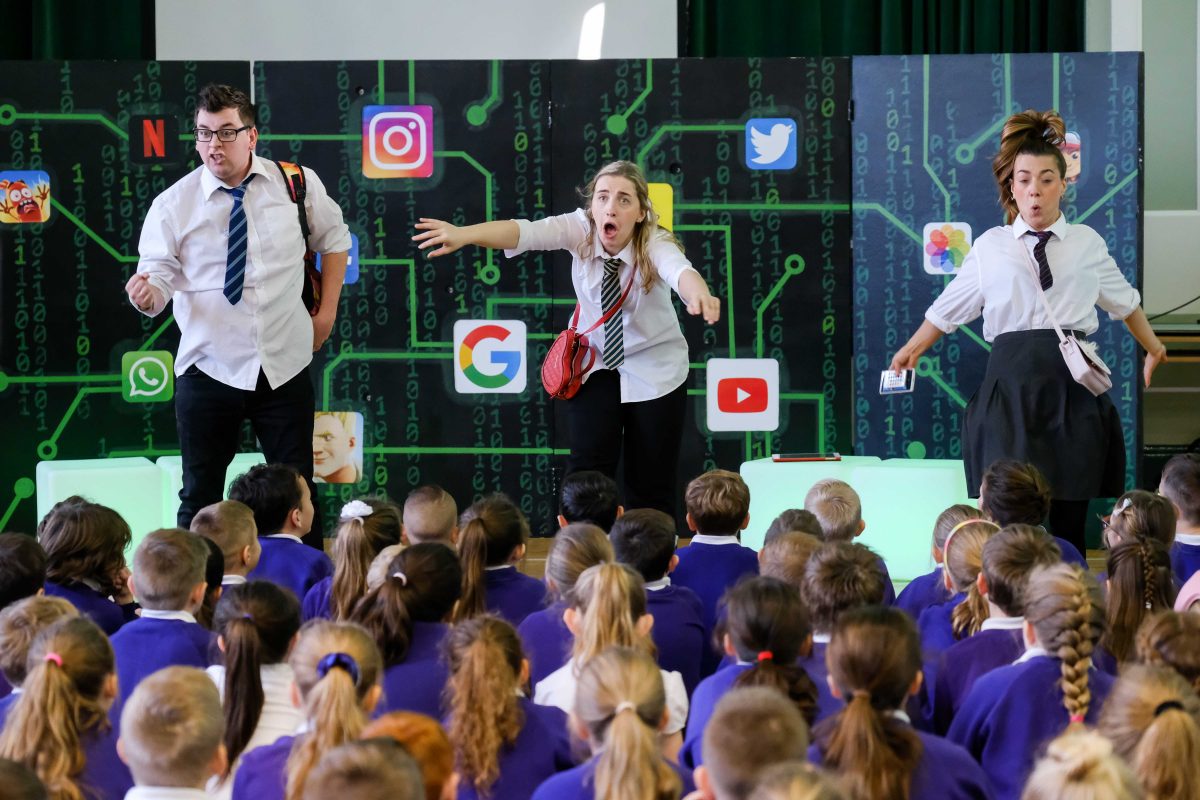 PSHE Performances in Autumn 2019
We've got 3 great PSHE performances coming up in the Autumn Term.  More info on each performance is below:
In September….
It's Online Safety! We'll help schools start the year as they mean to go on with a really fun performance called Back to the App which is about online safety, responsibility and wellbeing.  The characters explore online use (and over-use) as they are sucked into the internet and forced to consider the consequences of their actions.
Back to the App explores Fortnite, Snapchat, WhatsApp, Instagram, Youtube and more – offering practical advice for staying safe and being careful online.
Prices start at £475 + vat for a performance, workshop and teachers' pack.
Find out more about Back to the App
In October….
It's World Mental Health Day and we'll be touring What's Up Alfie? a special play about mental health and wellbeing for Reception, Year 1 and Year 2 pupils.
It's a gorgeous show which is all set an attic, a place where make believe worlds come to life and Grandad is always around to help sort out your problems.  Children sit and watch the show in-the-round in your school hall and explore resilience, communication, friendship and anger through Alfie's story.
Prices start at £400 + vat for a performance, 2 short workshops and a teachers' pack.
Find out more about What's Up Alfie? 
In November….
It's Anti-Bullying Week – but we'll be on tour all month with 3 exciting performances designed to get the whole school thinking and talking about bullying.
We've been touring Anti-Bullying performances for the last 12 years and most schools book us each year to give a real wow event to their Anti-Bullying work.
Each performance explores mental, physical and verbal bullying as well as cyberbullying.  The consequences are explored through the characters' stories and actions and children learn what to do and who to talk to if they are being bullied (or if they are the bullies themselves)
Prices start at £475 + vat for a performance, workshop and a teachers' pack.
Find out more about our Anti-Bullying Performances
With the new RSE curriculum coming into force soon, we're also putting together documents which illustrate how our performances hit these RSE guidelines and support schools in delivering this new curriculum.  All of these documents will be available over the summer – after a LOT of work from our CEO Kate (she's a former teacher, so she knows her way around a curriculum!)
We'd love to visit your school in the Autumn of 2019 and bring an important PSHE message to your school community. Get in touch with us on 0151 443 0333 or email hello@altru.co.uk if you'd like to find out more.